A visit to Peru is a madcap adventure of planes, trains, llamas and more!
Arguably best known for the famous Incan ruins of Machu Picchu, Peru is a stunning land of contrasts and offers a whole wealth of activities and sights to those that endeavour to head there. Having been sending clients here for over 10 years we can safely say we are Peru specialists and please see a few of our favourite and more popular destinations below:
There are arguably 6 main destinations in Peru that are really worth taking a look at. The obvious first is the enigmatic Machu Picchu, the sacred city of Cuzco and the Incan breadbasket of the Sacred Valley. This region is known as the very heart of the Incan empire of the 1500s and the citadel itself represents one of the world's true wonders.
From there it is really a matter of deciding what you are interested in. For serious walkers it is the untouched Cordillera Blanca range to the north of Lima which offer days of isolated walking.
For those interested by more culture then a visit to the floating islands of Puno and the Uros tribe on Lake Titicaca to the south is certainly recommended.
For those keen on nature, Peru has access to some of the least touched Amazon rainforest in South America with both Pacaya-Samiria National Park, outside Iquitos in the north and Tambopata and Manu National Parks near the town of Puerto Maldonado to the east of Cusco providing great access. To the very south of the country the historical and educational city of Arequipa, overlooked by the volcanic Mount Misti, offers an ideal starting point for visiting one of the world's deepest canyons in the Colca Canyon.
From here, heading up the coast to Lima, there is the seaside town of Paracas and the deific geoglyphs of the Nasca Lines, vast animal drawings created for the Gods. From Lima you can also choose to head right up to the northern coastal town of Mancora for some well deserved beach time to round things off!
Please have a look at the below information and get in touch if you would like to talk to any of us about putting together your ideal itinerary.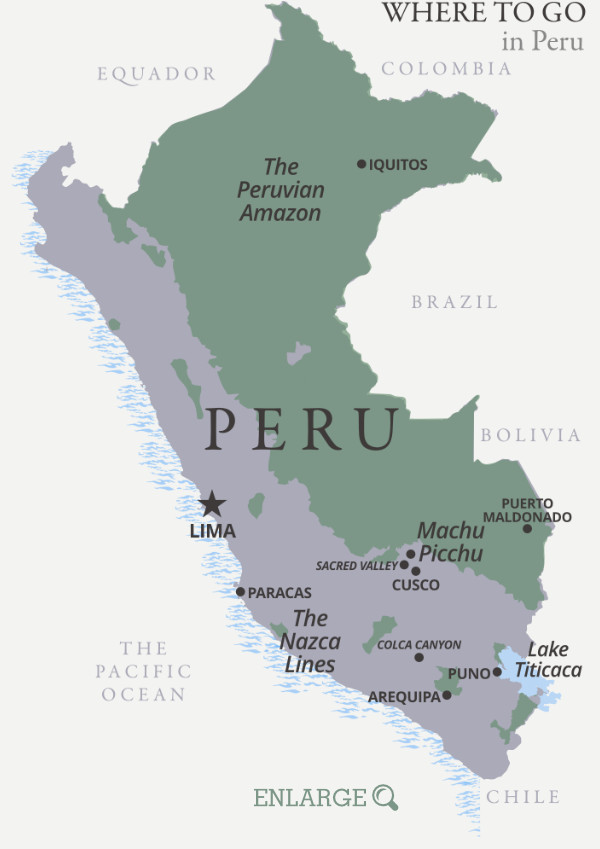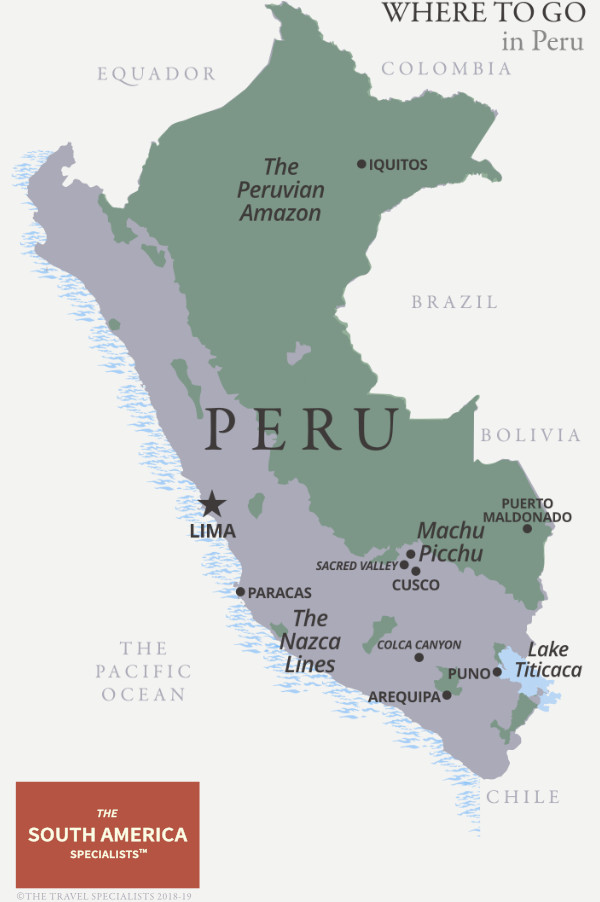 At a glance…Peru
Size: Approx 1.28 million sq kms
Population: approx 32 million
Time Zone: GMT -5
Time to visit: Year round
Go here for: Outdoor activities, culture, trekking, natural wonders
Further reading...